Cambridge ESOL Exams
School is a member of British Library
British Library
SCO 183-87, Sector 9-C,
Madhya Marg, Chandigarh.
Tel. Nos. 2745195/2745196
Email : bl.chandigarh@in.britishcouncil.org
www.britishcouncil.org.in
Satluj Public School is an institutional member of British Library.
1. What does it mean for Satlujians ?
Visit and invitations and Seminars to students organized by the British LIbrary.
Satlujians can go to the British Library any time during opening hours 11:00 a.m. to 7:00 p.m. (Monday to Saturday).Please carry youe ID Card with you.
Students can use the internet facilities and all other facilities of the British Library.
Students can issue books of British Library through the School Librarian.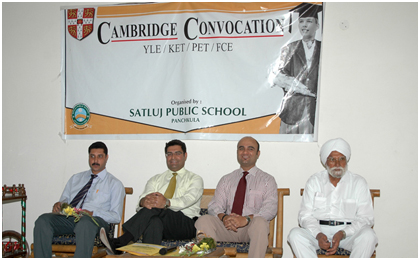 School is a member of British Council
British Council is the representative of UK in India and oversees all its institutions like Cambridge University Exams., Libraries/Seminars etc.
2. What does it means for Satlujians ?
Satluj Public School is a privileged member of British Council.
We conduct Seminars and courses run by British Council.
Educations from UK visit our school and widen the horizons of our students.
Teachers/Students of Satluj Public School can go to UK on exchange visits and holidays on subsidized payment basis on invitation.
Access to all the facilities of British Council situated in Kasturba Gandhi Marg, New Delhi as visitors.
Our students take KET/PET/FCE exams for English certified by the world famous Cambridge University, UK.